Who we are
In 2007 the CLCAC established a Land and Sea Ranger Program as an extension of its role as a native title service body.
The Land and Sea Program undertakes management activities that enhance the protection and management of natural resources for the long-term benefit of Traditional Owners and communities.
This Program has gone from strength to strength, and is considered one of the best Indigenous Land and Sea Programs of its kind in Australia, in terms of skill levels of employees and delivery of services.
The Land and Sea Program currently has 16 full-time Indigenous Rangers in two ranger units at Burketown (Gangalidda Garawa Rangers) and Normanton.
Current activities include:
Feral animal and weed control
Wetland rehabilitation
Fire management
Turtle and dugong management
Biodiversity survey and vulnerable species monitoring
Protection and management of cultural sites
Traditional knowledge transfer through school visits and the Junior Ranger Program
Landscape remediation
Marine debris sureveys
INDIGENOUS PROTECTED AREA
The CLCAC rangers manage two Indigenous protected areas, (Thuwathu/Bujimulla and Nijinda Durlga); and assist in other conservation reserves in the region. The rangers have shown the way in conservation management in protected areas.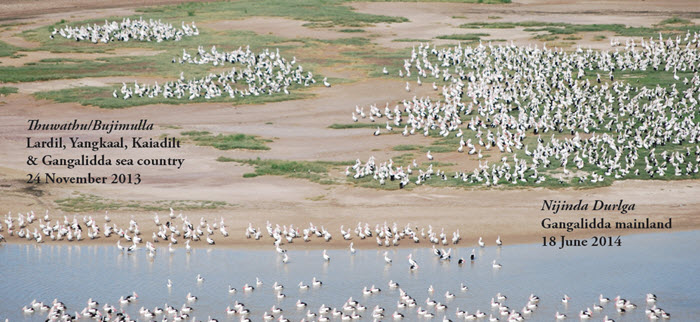 WHERE WE WORK: The Gulf Plains
The spectacular natural environment of the Southern Gulf Region ranges from eucalyptus woodlands in inland areas through to lowland coastal plains, pristine wild rivers and seasonal and permanent wetlands to the rich marine resources of the Gulf of Carpentaria.
Extensive mangrove forests, vast salt pans, estuaries, beaches, rocky shores, large seagrass beds, reefs and other marine areas typify the landscape, through to rugged sandstone uplands and gorges with springs and permanent waterholes.
The area is particularly significant for the extent and continuity of its wetlands and its importance as a rich breeding habitat for many waterbird and shorebird species, and encompasses rich hunting grounds and therefore many areas of cultural significance to Traditional Owners.
Sadly, uncontrolled wild fire, feral animals and weeds are threatening these unique places. Without significant expansion of the important land and sea work that the CLCAC undertakes these threats could alter this beautiful country permanently.