Gulf Savannah Fire Management Guidelines
The Guidelines provide information on appropriate fire management practices across different landscapes of the lower Gulf of Carpentaria. The purpose is to help land managers plan hazard reduction burning and undertake planned burns for improved pasture production and conservation outcomes. These Guidelines are feely available for download as a user friendly guide to hazard reduction and ecological burning. 
The fire management guidelines are the culmination of extensive consultation, research and discussions with Traditional Owners, volunteer rural fire brigades and other respected fire managers and fire scientists. These guidelines are intended to be used by Indigenous land and sea rangers, volunteer rural fire brigades and landowners who are on the front line in managing fire in rural communities.
We invite you to use this resource to learn about best practice fire management in the Gulf Savannah.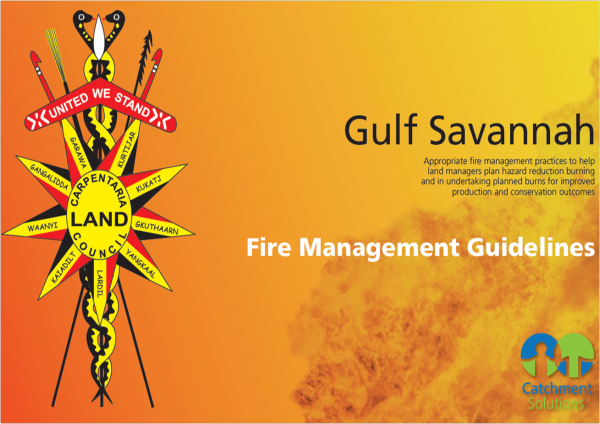 Using these Guidelines
The guidelines have been developed for 17 landscape types in the Gulf Savannah. Four important factors to consider when planning for fire management are:
Fire frequency – how often should an area be burnt
Fire intensity – how hot does the fire need to be
Season – what time of year will usually provide the desired conditions for a planned burn
Burning mosaic – the percentage of ground cover remaining unburned after a fire
Other important factors to consider are fuel loads, wind speed, humidity, fuel curing, slope and aspect. These guidelines are not intended to account for all circumstances. Seasonal, yearly and even daily conditions can vary dramatically. Plan ahead, carry out burns when conditions are suitable and always obtain and adhere to conditions of a permit from your fire warden.                                                                                                         
​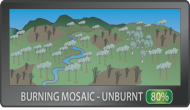 What are the different Fire Landscape types of the Gulf Savannah?
The fire landscapes in the Gulf of Carpentaria are derived from consideration of the various topography, soils, plant and animal associations across the region. The fire landscapes should be easily identified within the broader landscape. The 17 fire landscapes types include:
Mangroves and Estuarine Wetlands
Saltmarsh and Saltwater Couch Grasslands
Foreshores and Beaches
Saltpan and Islands of Vegetation
Permanent Lakes, Billabongs and Terraces
Tea Tree Woodlands
Flood Plains and Wetlands
Sand Ridges
Forest Country
Fringing Riverine Woodlands
Sandstone Ridges, Escarpments and Folded Country
Downs Country Sandy Plains
North West Fringing Riverine
Limestone Hills
Acacia, Gidgee and Lancewood
North West Plains
Springs and Vine Thickets
These photographs show some of these landscapes